Welding Tools
Welding tools help you to "make it happen"!
I will cover many types of tools to help you decide what to get 1st & then add to that list as you can. There will be lots more tool pictures & explanations on pages linked from this one.

Note the I'm a member of "the Best of The Web" Directory, because I'm one of THE BEST! Click here: Best of the Web!


But first let's talk about the need for some Quality Tools:
It would be great if we could all get the best for all our tools. But in the real world most of us cannot afford to do that. Plus, I'm trying to keep costs low for beginning welders.
Here's a list of tools that SHOULD be quality types: (I suggest that you PAY THE EXTRA for these).
* Drill bits (too many times I've had to work EXTRA hard using bits that get dull right away)
* Chisels (when you're chiseling something as hard as your tool, good luck!)
* Pinch Bars (a bent pry bar probably won't do another job for you)
* Slag Hammers (slag is really hard stuff, get a good slag chipping hammer)(I prefer the type with the flat blade at right angles to the handle).


You can certainly get away with cheaper tools most of the time. But the more you use a tool, or the bigger the job, the more you'll want a better tool.
The type of jobs you do & the SIZE of those jobs, will be big factors in what tools you'll get.
You'll NEED these tools: (minimal)
1) AC Arc Welder
2) Helmet
3) Cutting Torch
4) Metal Cutting Tools
5) And SEVERAL MORE
To see my whole list, click on the the link below:
Click here to see my "tools you need " page


---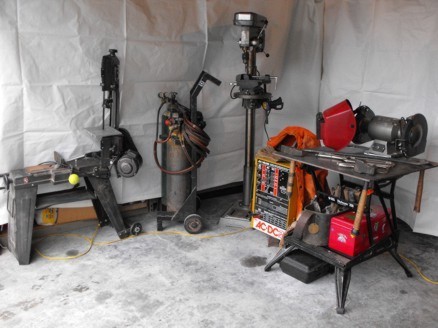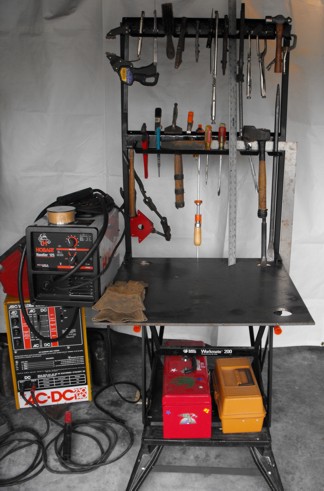 My Current Welding Shop

Directly above is my up-dated welding table. I added a shelf for my Hobart flux cored welder & 2 tool racks. Note that I also added some vertical & horizontal bracing for the "Workmate" table, 'cause it's kind of overloaded.


---
Tools you'll WANT:
1) AC/DC Arc Welder (or MIG type)
2) Bigger Torch set (bigger tanks & 2-stage gauges)
3) Better metal cutting tools
4) And MORE stuff that I'll cover

To see more stuff you'll WANT, click on the link below:
Click here to see more about welding tools that you'll WANT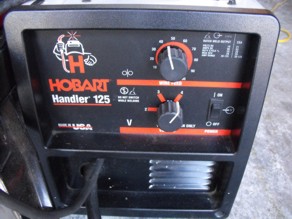 ---
Special Arc Welding Tools:
1) 1/2 clamps ( you'll make your own)(I'll show you how, plus their usage)
2) MIG welder pliers (special pliers that do multiple jobs on your wire feed welder)
3) Slag Hammer (It's a NEEDED tool and a SPECIAL tool)
4) "Rattle Gun" (an air-driven multi-tip slag hammer, usually for those that have their own business & do LOTS of welding)
5) And MORE that I will cover

Click here to see more Special Welding Tools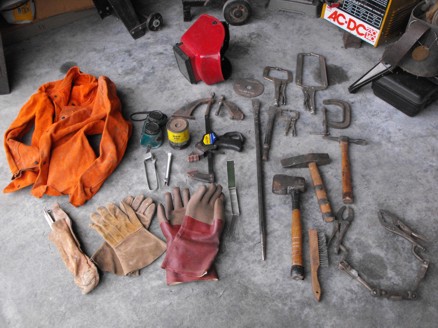 May you and your tools live happily ever after!

HOME





Want to know MORE ABOUT tools? Find out with my ebook, "The Arc And Beyond"!

Click HERE to see more about my ebook