Arc Welding Order:
From Start to Finish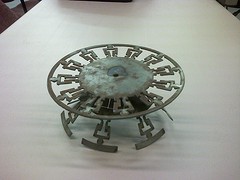 Photo by: "steevihak at flickr.com"

An interesting arc welding project table: Think about how YOU would work through this project.


This is an introduction to a 6-page series which is part of my "Beyond The Arc" content. I'm taking you beyond the point of running beads and giving you ideas to help you convert your dream into a "piece of art". (see links below).

This is a natural order of events, once you have an idea:
Make a workable design, tally up your needs & find your materials, layout the items logically, figure out what to do first, find solutions to problems, and then work on the finishing touches.

Your ideas can start with you, or come via: family, friends, the internet (like flickr.com or Miller.com for their forums), or from anything you come across on my website!

Once your idea is "there", consider these thoughts:
1) Arc Welding Design: This can be anything from how to put 2 pieces of metal together, to extremely complex data, engineering drawings, & more. I'm simply helping you to create a workable design. Period.

2) Welding Supplies: I will share ideas on where you can get materials (new or used), & some thoughts on substitutions.

3) Layout: I call this, "Putting all your cards on the table".

4) Order of Assembly: Where to start & more.

5) Correcting Problems: Improve the looks? Beef it up? Things aren't fitting together right? Let's talk about it.

6) Finishing up: Is it safe? Then get to sanding, grinding, priming, & painting, etc.


Go to the the pages listed above by clicking the links below:

Go to "Arc Welding Design" page

Click here to go to "Welding Supplies" page

Go to "Welding Layout" page

Click here to go to the "Welding Assembly Order" page

Go to "Welding Project Problems" page

Go to "Finishing Arc Welding Projects" page
---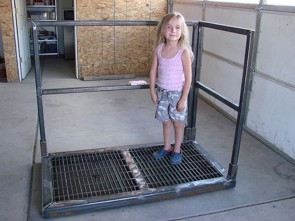 Photo by: "jakesmome at flickr.com"

Remember that your kid may stand on YOUR project! Be careful!
Go to top of page
HOME


Need MORE INFO? Get it from my ebook, "The Arc And Beyond"!:
Click HERE to see info about my ebook