Finishing Arc Welding Projects:
Taking CARE from start to finish
Finishing Arc Welding Projects is all about how careful you were throughout the project!

You can't cover up poor design & workmanship with paint!

Finishing The Job:
1) Check your weld "starts & finishes" & fill in any depressions.
2) Chip all slag off & then brush it.
3) Do any grinding & sanding as needed. This is for both safety AND looks. Round the corners and edges.
4) I use a 4 1/2" right angle grinder at home. Even though it's not as heavy duty as the big grinders, it's MUCH easier on your arms & hands!
5) If you're grinding off welds, check for cracks & pitting. You can grind them out then re-weld & re-grind. Doing this is up to you, it can depend on how strong the welds need to be, & how important good looks are to you.
6) Grind, sand, prime, paint: Remember that if you have a rough looking finish & don't smooth it up, you'll just have a rough looking finish of a different color later!
7) Adding decorative pieces like knee bracing, fancy cut-outs, etc, can help the looks, even if they're not needed for strength.
8) Material type & size can effect how the job looks. Big hurkey materials can detract from the looks. And I feel that in most cases square tubing looks better than pipe (plus it's easier to fit & weld).
9) Note that after welding, you should be priming or painting fairly soon to prevent rusting.

Below are photos related to the tips I just mentioned:


Photo by: "japanese craft construction at flickr.com"
Not a great finish: I would have welded over the undercut weld, & did more grinding/sanding before painting.




---
Photo by: "rocketjim54 at flickr.com"
A good weld & a good finish!




---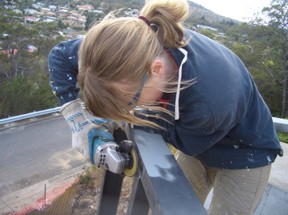 Photo by: "spannar00ni at flickr.com"
She's looking closely and doing a caring job!




---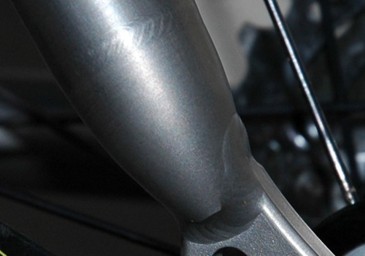 Photo by: "andy c at flickr.com"
What can I say? It doesn't get much better than this job!




---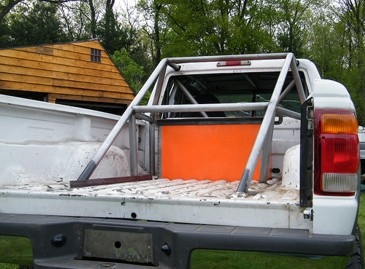 Photo by: "howdeedoodat at flickr.com"
Another good example of caring about your work!



SUMMARIZING:

Finishing arc welding projects is more then just the paint job at the end!

Paying attention to design, order of assembly, doing good welding, & doing the grinding & painting are ALL part of what your finished project will look like. AND HOW SAFE IT WILL BE!
---
"Finishing Arc Welding" top of page


Return to "Arc Welding Order" main page
HOME