Welding Projects:
I "show & tell" you how I did my projects
PROJECT DETAILS are continued in my ebook: "the Arc And Beyond!"
(See the link to my ebook at the bottom of this page)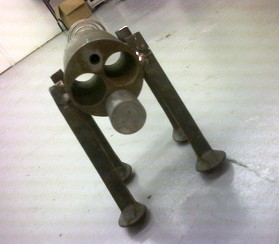 Photo by: "steevithak at flickr.com"
The "PIG IRON".



The following page about welding projects "tells" about many projects that I built, both at work & at home.
I think that you can learn from my experiences, including my trials & errors.

Projects from work:
1) I will talk about repairs on a large control arm.
2) Then I "show & tell" you about log hauls.
3) Next comes my first project from a blueprint.
4) Following comes gearbox repairs.
5) Then about catwalks, design & build.
6) Pipe bending tips.
7) Large size wire feed tasks.
8) shaft-work.
9) Big "hog" teeth.
10) De-construction.

Projects from home:
1) The rowing machine.
2) My dolly.
3) The vise/grinder/drill press stand.
4) The old weld table.
5) Table saw.
6) Rear carrier.
7) Pickup bed conversion to trailer.
8) Exersize "tree".
9) Oscilloscope/test equipment stand.
10) Jungle gym/swing set.
11) Totally cut up a car.
12) Cart for welder.
13) Microwave cart.
14) Tank cart.
15) Sales display frame.
16) Garden cart.
17) Motorcycle trailer
18) Pool platform.
19) Leveling "sawhorse".
20) Pickup loading ramp.
21) Frame for generator.
And MORE!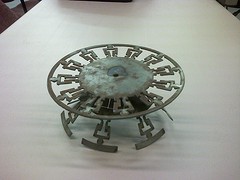 Photo by: "steevithak at flickr.com"

I LIKE this table, so here it is again.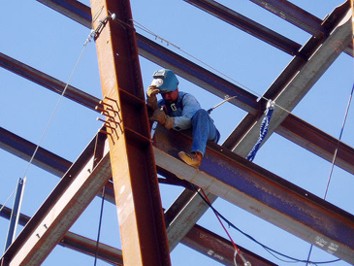 Photo by: "gregory at flickr.com"

Our projects might be a little "pig iron" or a whole building! But if WE DO THEM, WE OWN THEM!

Other Welding Projects to THINK ABOUT:
1) Camper support/dolly.
2) Dog kennel/run.
3) Bike rack attachment for the car.
4) Motorcycle carrier, trailer, or work-stand.
5) Trailer hitch.
6) ATV racks/carriers.
7) Hunting tree stands, ladders, carriers.
8) Large tent frames (or cheap storage).
9) Create farm implements, gates, stock racks.

The possibilities are endless!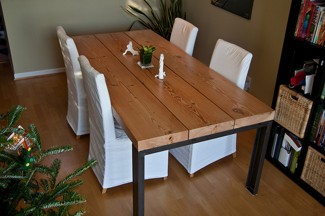 Photo by: "sporkist at flickr.com"

Or maybe it's a welding project "just for her".



Project DETAILS are in my ebook, "The Arc And Beyond"!:
Click HERE to see more info about my ebook


Welding Projects top of page


HOME