"Arc Welding is more than just
running beads"
Would you like to learn HOW TO ARC WELD,
beginning RIGHT NOW?
Men, Women, Young, & Old can learn arc welding.
**MY EBOOK: "The Arc and Beyond" IS READY!**
Click HERE to buy! THANKS!
Welcome to
YOU
who wish to learn
HOW TO ARC WELD
. This website is set up to help beginning welders. Experienced welders are invited too!
Be sure and visit my "Site Map" page for a quick look at ALL my pages, plus a brief description. Just click below:

TO MY SITE MAP
You too can become the welding fanatic that I am!
• I will teach you welding safety...
• You will learn to run great "beads of weld"...
• Then you'll learn "the rest of the welding story":
1) Tools & equipment (The "needs" plus the really "wants")
2) Planning & preparing, from your idea to the "done deal"
3) Selecting the materials and suggested sources
4) Design considerations (strength, beauty, practicality)
5) Layout ("putting all your cards on the table")
6) Order of assembly (It can make a REAL difference)
7) Correcting problems (fixing & modifying)
8) Finishing (Does it look good? Will it last?)
9) And MORE
READ how to weld & more
WATCH me weld & more

Welding is about dreaming & creating: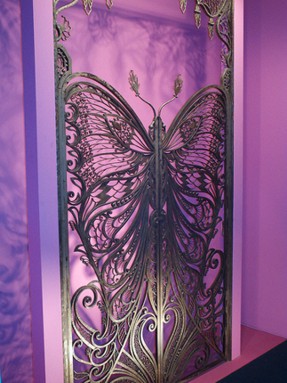 Photo by: flagusco at flickr.com

Let me help you with these:
* You can learn the basics in a short time...
* Design & build your own stuff...
* You could eventually advance to great pay...
* Did I mention that arc welding is awesome?
I will show you in an "over the shoulder" way to go ahead & dream, then get it done. I give you lots of tips & tricks for various types of arc welding.

When I wanted to join the welding crew, the first words from my Department Head Boss were: "There's more to welding than just running beads." As I learned the whole process from having an idea to finishing the job, I understood exactly what he meant.
That is the goal of my website, to help YOU understand what he meant by that statement.

I get right to the point. There won't be 100's of pages of data, just good ol' welding "how to".
*WARNING*: This is NOT a text book, this is a readable & useful arc welding website!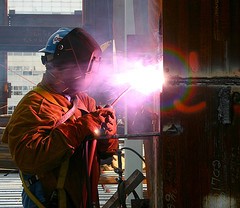 Photo by: "mborowick at flickr.com"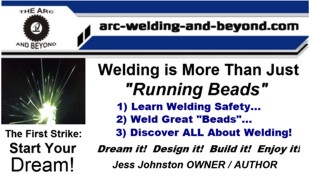 My Business Card: It Tells My Website's Whole Story!
THANKS FOR VISITING MY WEBSITE!
**MY EBOOK IS READY!**
It's called:
"The Arc And Beyond"
Just click here to go to my SALES PAGE:
My SALES PAGE

Best of the Web!
Copyright 2009 Arc-Welding-And-Beyond.com
Brought to you by Jess Johnston, Owner-Author

Website made possible with great help from SITE BUILD IT!
SBI!